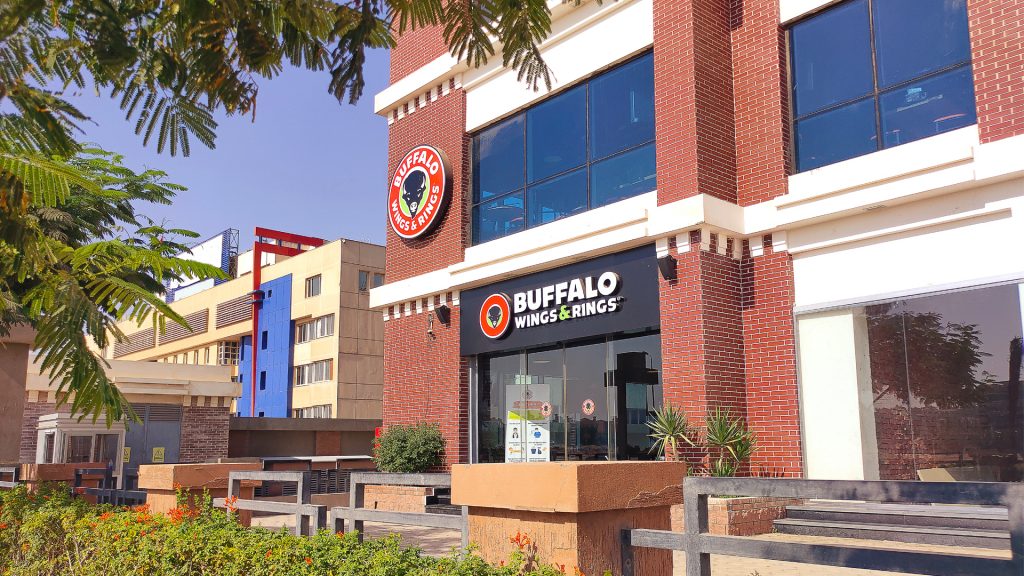 Buffalo Wings & Rings, the much-loved American casual dining restaurant celebrated the opening of its second branch in Egypt. Following the huge success of its branch in Radisson Blu at Heliopolis, Buffalo Wings & Rings opens its new branch at the other side of Greater Cairo which satisfy the cravings of fans bringing fresh flavors at a great value closer to its customers. In fact, Sheikh Zayed branch is opening in celebration of the fact that they've served over 10 million wings throughout the past years in Egypt.
Located at Avenue 22 Mall at El Mehwar El Markazi Road, the new branch features a new design direction that is both modern and elevated with concrete finishing that contrast with warm brick walls. With huge and multiple screens all over the restaurant to ensure sports fans enjoy an immersive spectator experience from every angle. The interior dining hall features cozy seating options for intimate family-friendly gatherings as well as interactive zones for larger groups. An external terrace will allow guests to enjoy the cool breezes and sunny days.
Aside from serving delicious and delectable chicken wings and signatures sauces ranging in heat from the mildest to the most daring 1 million sauce, the menu promises to satisfy every craving. A wide selection of dishes from fresh salads, starters, quesadillas and handcrafted burgers. The dining experience is not complete without a refreshing signature drink or an alcoholic beverage from the extensive drinks' menu featuring top shelf international brands as well as local varieties including ice cold draft beer.
Since 1984, Buffalo Wings & Rings served its very first wing in Cincinnati, Ohio. And now there are 60 branches in USA, and 24 branches all over the world, sustaining a club-level sports restaurant experience where everyone is a VIP, worthy of the ultimate sports dining experience.
To learn more about this casual dining experience, check out @BuffaloEgypt on Instagram or f/BuffaloEgypt on Facebook. And keep your eyes peeled as Buffalo Wings & Rings are set to open their third branch in Egypt sometime by the end of 2020.