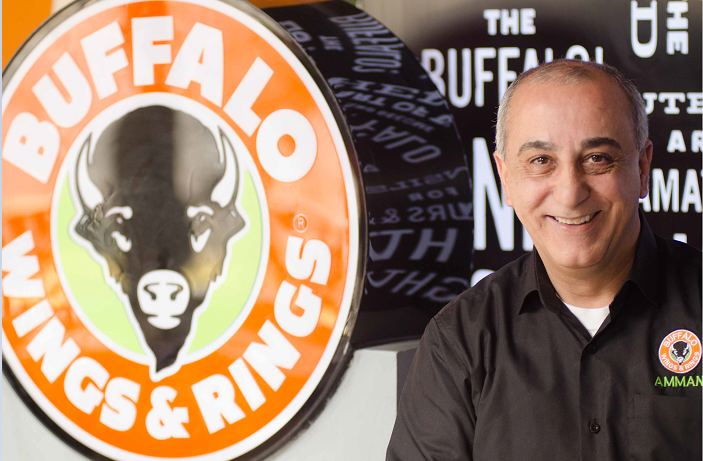 When you are looking to start a business, everyone has those moments where you question whether or not you're making the right long-term decision. But oftentimes, the key to thriving—in business and in life—is finding something that inspires you. The same can be said for franchising. That's why, Buffalo Wings & Rings believes that its people make the brand—and it's why so many franchisees have developed a deep-seated passion that's helping to fuel the brand's impressive expansion efforts throughout the country.
That kind of franchisee satisfaction can go a long way for a brand—and for Buffalo Wings & Rings, it's not going unnoticed. Most recently, Franchise Business Review's Franchisee Satisfaction Awards listed Buffalo Wings & Rings as one of the best franchise opportunities for 2016 and 2017. The only franchise ranking based on actual franchisee satisfaction and performance, for this year's top franchise list, Franchise Business Review surveyed over 26,000 franchise owners, representing more than 350 leading franchise brands, to identify the Top 50 Franchises in four franchise size classes.
Backed by a strong system of more 70 locations and counting in the United States alone, alongside 20 locations in the Middle East, branching out to Asia and Europe this Summer, Buffalo Wings & Rings is proud to make the elite list.
"Being listed by Franchise Business Review proves that we are on the right track and excelling in all the right areas. We are extremely proud," Nader Masadeh said, the CEO of Buffalo Wings & Rings. "Often, the key to starting and staying the course as a franchisee is finding something that makes you proud every single day. Buffalo Wings & Rings has always supported and valued the hard-working and dedicated people who have made our brand what it is today—it's why so many franchisees find success with Buffalo Wings & Rings and eagerly choose to grow with us."
Buffalo Wings & Rings has long valued the opinions of its franchisees. In fact, for the past decade, the brand had an established internal feedback system, giving them insight on the most critical issues communicated by franchisees. Then, in 2016, Buffalo Wings & Rings decided to subscribe to the Franchise Business Review Feedback system to get an ever better sense of what was working—and what wasn't working—within its network.
"There were two things that really appealed to us about Franchise Business Review. First, it provided us with a well-known outside third party to perform the survey. And secondly, the fact that all 26,000 franchisees were asked the same questions. When a franchisor receives their grade, they get a benchmark against other franchisors. That has an incredible value for us to decide on priorities."
Buffalo Wings & Rings' added advantage comes from its flexible and customizable support model, which has long been a huge differentiator for the brand. They customize their support for each individual based on their level of experience and level of need. Training is also tailored to make sure that every franchisee is set up for success from the moment they sign their agreement to the day they open their doors. From there, Buffalo Wings & Rings puts a strong emphasis on maintaining open communication to offer support whenever it's needed—from local store marketing and the point-of-sale system to everything else in between.
"The support system is great. We offer training support, marketing support, pretty much A-Z support to everything, and an entire team is available to support the franchisees every step of the way," said Haytham David, CEO of Buffalo Wings & Rings International.